Roads and Highways Minister, Kwasi Amoako-Attah has disclosed that the Tamale interchange will be ready for commissioning by the end of March 2022.
"The contractor has assured me that every work associated with the interchange will be completed by end of February and that the first two weeks of March will be used to do the end finishing and then anytime from mid-March the President will commission the project."
According to him, President Akufo-Addo's led administration is determined to change the face of road infrastructure networks across the country before ending his tenure.
The Minister inspecting road projects in the region expressed his excitement about the work done by Synohydro, the contractors, and residents for their corporation for the success of the project.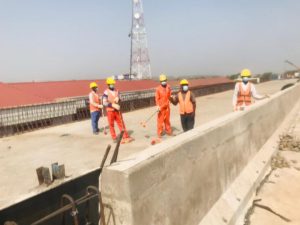 The Roads Minister called on Ghanaians to support the E-Levy to develop the infrastructure base of the country.
" Everybody should therefore support the E-levy because it's coming for our good and the development of our roads ."
The Resident Engineer, Tamale Interchange, Mr. Emmanuel Degbotse told journalists that the Tamale interchange project is 95% completed.
" The total project is 95% completed what is left with is 5% and we are working both day and night both up and down to make sure that everything is completed on time."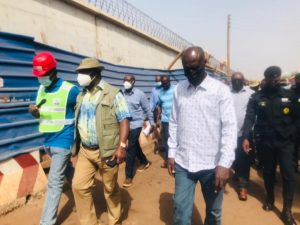 He indicated that contractors are left with asphalting of the road and street lighting as well as reconstruction of drains at the down street.
The Northern Regional Minister, Shani Alhassan Shaibu was optimistic that the project will boost economic activities in the region since Tamale is the gateway to the Sahel.
He entreated the people of the North to have faith in the Akufo-Addo led administration and be assured that the Dagbon will get its share of the government's year of the road which residents have started witnessing already in the region.
In 2019, President Akufo-Addo, cut sod for the commencement of the multi-million dollar Tamale Interchange project funded under the $2 billion China Synohydro deal.
The project is aimed at enhancing inter-urban and national traffic flow reducing the cost and risk of doing business, thereby enhancing trade within the Saharan regions.
Story By: Eric Kombat | Daily Guide