Tamale: Woman who stole iPhone to feed son 'rescued' from prison
A 35-year-old woman, who could not pay a 1,200-cedi fine for stealing a mobile phone and had to spend three of five years in jail in the Northern Region, has been rescued by a philanthropist.
Teni Yisigna in 2016 stole an iPhone from her boyfriend of five months, which she sold for 150 cedis to buy food for her 'hungry' 10-year-old son and herself.
She was arrested and put before the Bolgatanga Circuit Court, which fined her 1,200 cedis or in default, serve three years in prison. She could however not raise the money to pay the fine.
While she was being sent to prison to begin her sentence, Teni escaped from the police escort transporting her from the Upper East Region to the Tamale Central Prisons where she was to serve her sentence.
Teni was however rearrested on August 12, 2016 and handed a two-year jail term for escaping from lawful custody.
She eventually ended up at the Tamale Central Prisons where she served three years until a philanthropist, Chief Executive Officer of Tiyumba Hope Foundation, Fuseini Fadila, paid the 1,200-cedi fine and she was released from jail.
Fadila got to know of Teni's story when she visited the Tamale Central Prisons to do a donation.
"I was touched on hearing her story so I discussed with my team and we quickly raised the amount and followed due process to get her out today," she said.
Teni told 3news.com that her prison experience was a turning point in her life as she has managed to learn a trade, but said she has no funds to start a business.
"Thank God I learnt to bake bread and also prepare kenkey while in prison. If I get any support, I will go into business," she said.
She also explained why she escaped from lawful custody, stating "I could not imagine leaving my little boy behind for years so I felt empty being transported to the Tamale Central Prisons and had to run away".
Meanwhile, Fadila has urged the public to financially support Teni.
"I wish to call on the general public to support her financially to start a new life to impart herself and the society"
Story By: Zubaida Ismail|3news.com
S/R: Criminals Terrorising Passengers On The Sawla to Tuna Road Arrested- ACP Dormanbah
The Deputy Police Commander of the Savannah Region ACP Charles Dormanbah has assured the people of the Savannah Region that armed robbery especially in the Sawla area of the Savannah region will soon become a thing of the past.
Speaking at a press briefing at the Damongo Divisional Police Headquarters yesterday 19th September, 2019, ACP Dormabah said the two suspected highway robbers arrested by the Police Patrol team on the Sawla to Tuna road are the criminals terrorising motorists and passengers on that stretch.
According to him, on 18th September, 2019 at about 4.00 pm, the police patrol team stationed at Sawla arrested and brought in suspects Mustapha Mumuni age 22 years and Ali Bukari age 20 years together with a black Apsonic Auroba motor bike with registration number M-19-UW-5099 with a report that whilst on patrols on Sawla to Tuna road where robbers have been attacking motorists plying the route, they spotted the two suspects at a spot where some motorist were robbed earlier Monday 16th September, 2019.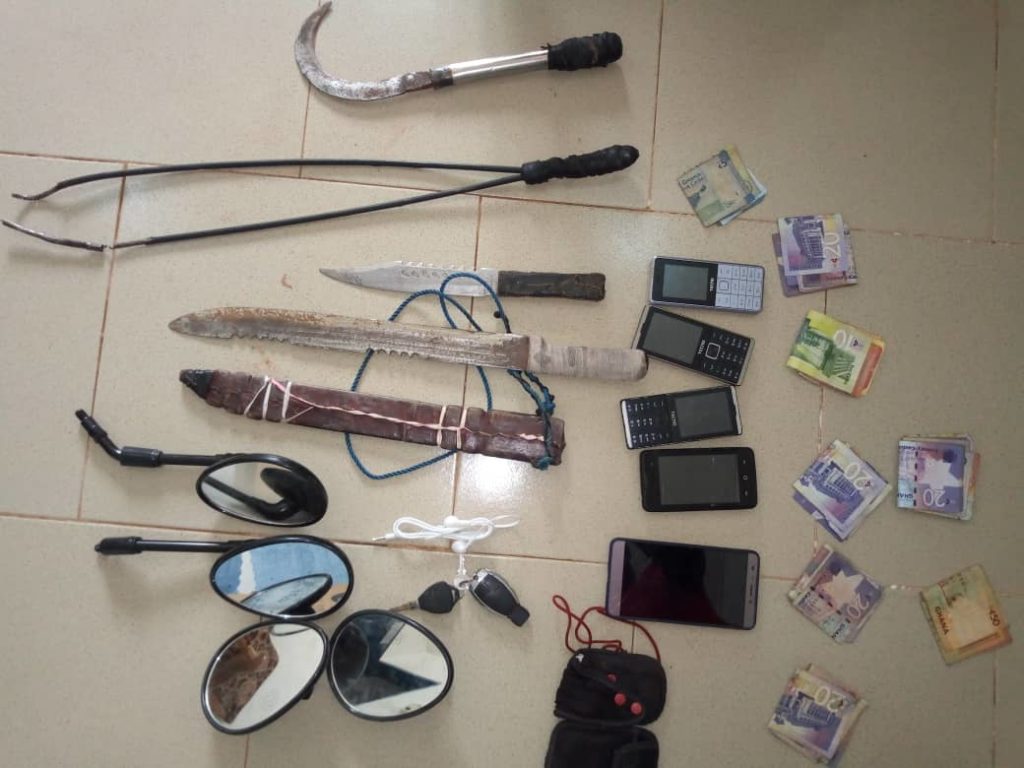 ACP Charles Dormanbah said a search conducted on them revealed some amount of money in their pockets, Five mobile phones made up of four TeKno and an Infinix where found on them with description of the suspects given by the various victims of highway robbery attacks.
ACP Dormanbah also said a search conducted by the police in the rooms of the suspects in Tuna and Jindabour revealed a Jack knife, a dagger, a go to hell metal, two pairs of motorbike mirrors, two mobile phones and two covers, an ear piece and a metal whip in the room of Ali Bukari in Tuna but nothing was found in the house of suspect Mustapha Mumuni.
ACP Dormanbah said the police counted the money retrieved from the suspects and it amounted to GHC 939.00 with the picture of Abass Gumah, a driver from Bole on the infinix phone found on the suspects.
Abass had meanwhile earlier reported on the 13th September 2019 of being robbed of the sum of GHC10,251, an Infinix phone and a phone of his mate. The suspects will be arranged before the Bole Magistrate Court next week.
ACP Charles Dormanbah praised the Police team for the good work they are doing and urged them not to relent in their efforts towards ending crime in the region.
Source: nkilgifmonline.com/ Zion Abdul- Rauf