Deputy Northern Regional Police Commander Outlined Tactics to Avoid Criminals
The Deputy Northern Regional Police Commander Fosu Agyeman has bemoaned the increasing rate of crimes and lawlessness within the northern region.
To this end, he cautioned the public to raise individual security and report suspicious cases to the police.
He said this in a meeting with staff of the Northern Regional Coordinating Council (RCC) held at the RCC on Friday September, 6 2019.
According to him, "security means free from anxiety, free from troubles, and putting measures and policies to avoid deaths and attacks". He added that, "if an individual is able to take steps to avoid being victimized by terrorist and robbers attack then it's security".
Responding to a question raised on the state of the Police Visibility Policy, he indicated that they are increasing their check points, vantage points and more of the patrol team will be deployed on the roads.
He emphasis that "the police have a role to play and the individuals have their roles to play, together they can maximize security".
The deputy police commander Fosu Agyeman outlined some individual roles which includes; individuals increasing their level of security as their wealth increases, Giving police information by reporting suspicious characters, behaviors and abnormalities. It also include avoid keeping large sum of money in the house, work place and in cars; which he said will attract criminals, Never assume that you're untouchable; this makes you reluctant to increase your security measures but considering yourself as a weak target will help you maximize your security measures, Suspecting everybody; he stresses that criminals can be in an expensive suit, can be an Alhaji or Rev. even your husband or wife can be a criminal.
The individuals role also include being vigilant and observant; this he said will help you easily identify crimes and wrong doings so you can raise alarm. He added that if armed robbers enter your house do not challenge them, do not identify them even if you know them, but cooperate with them.
The deputy police commander revealed that "before armed robbers attack a target like a house, fuel stations, banks, vehicles, money etc. they do their homework and plan very well by considering two things; first, their Profit margin; and the Risk level.
Yussif Tanko, the Public Relations Officer (PRO) of the Northern regional Police command also stressed that they need information from the public, indicating that men are usually reluctant in giving information to the police and urged women to endeavor to give information. He clarified the misconception that people think their identities are disclosed when they give information to the police but that is not true. He attributed it to the fact that people confide with other people before or after sharing information with the police which causes their victimization but not from the police. He urged the public not to confide in any person before or after sharing information with the police.
Yussif Tanko also encouraged the public to call 119 or call their Tamale Emergency line 0299200331 to give them information.
Source:TamaleOnnline.net /Adongo Fatawu Divine
S/R: Criminals Terrorising Passengers On The Sawla to Tuna Road Arrested- ACP Dormanbah
The Deputy Police Commander of the Savannah Region ACP Charles Dormanbah has assured the people of the Savannah Region that armed robbery especially in the Sawla area of the Savannah region will soon become a thing of the past.
Speaking at a press briefing at the Damongo Divisional Police Headquarters yesterday 19th September, 2019, ACP Dormabah said the two suspected highway robbers arrested by the Police Patrol team on the Sawla to Tuna road are the criminals terrorising motorists and passengers on that stretch.
According to him, on 18th September, 2019 at about 4.00 pm, the police patrol team stationed at Sawla arrested and brought in suspects Mustapha Mumuni age 22 years and Ali Bukari age 20 years together with a black Apsonic Auroba motor bike with registration number M-19-UW-5099 with a report that whilst on patrols on Sawla to Tuna road where robbers have been attacking motorists plying the route, they spotted the two suspects at a spot where some motorist were robbed earlier Monday 16th September, 2019.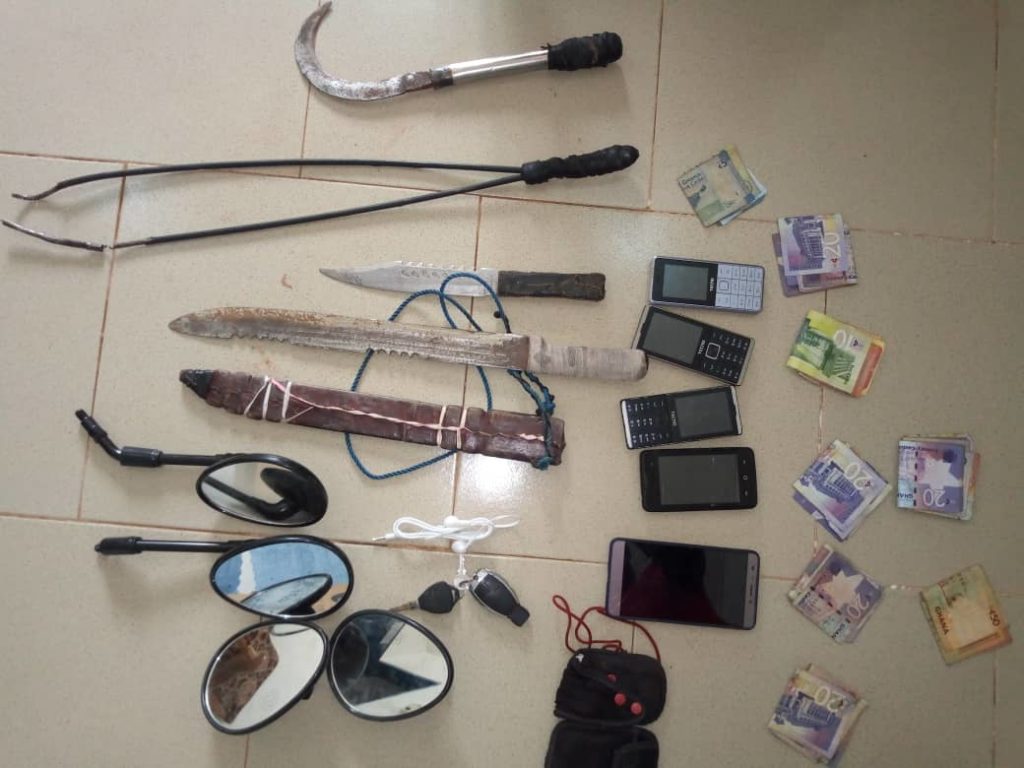 ACP Charles Dormanbah said a search conducted on them revealed some amount of money in their pockets, Five mobile phones made up of four TeKno and an Infinix where found on them with description of the suspects given by the various victims of highway robbery attacks.
ACP Dormanbah also said a search conducted by the police in the rooms of the suspects in Tuna and Jindabour revealed a Jack knife, a dagger, a go to hell metal, two pairs of motorbike mirrors, two mobile phones and two covers, an ear piece and a metal whip in the room of Ali Bukari in Tuna but nothing was found in the house of suspect Mustapha Mumuni.
ACP Dormanbah said the police counted the money retrieved from the suspects and it amounted to GHC 939.00 with the picture of Abass Gumah, a driver from Bole on the infinix phone found on the suspects.
Abass had meanwhile earlier reported on the 13th September 2019 of being robbed of the sum of GHC10,251, an Infinix phone and a phone of his mate. The suspects will be arranged before the Bole Magistrate Court next week.
ACP Charles Dormanbah praised the Police team for the good work they are doing and urged them not to relent in their efforts towards ending crime in the region.
Source: nkilgifmonline.com/ Zion Abdul- Rauf